Joint Policing Committee
Call to community groups regarding all aspects of policing in Co. Kerry.
"The next sitting of the Kerry Joint Policing Committee (JPC) will be held in the coming weeks. If you have any policing related matters which you would like raised to either Kerry County Council or the Gardaí, please reply to this email with your query. adunne@kerrycyclingcampaign.org. If you would like to discuss further with the PPN JPC members their email addresses are supplied below:
Kerry Joint Policing Committee PPN Representatives:
Please find attached an invitation to the Launch of the "HSE Social Prescribing Framework: Mainstreaming Social Prescribing In Partnership with Community & Voluntary Organisations" on Thursday July 15th @ 11:00 – 12:30.
Social Prescribing is a means of enabling healthcare professionals and other professionals to refer people to a range of local non-clinical services primarily provided by the Community & Voluntary Sector.  This Framework sets out a common approach for the delivery of Social Prescribing across the HSE in collaboration with the Community & Voluntary Sector.
Minister Frank Feighan, Minister of State with responsibility for Public Health, Wellbeing and National Drugs Strategy will officially launch the Framework.  The event will include input from staff in the delivery of Social Prescribing and Service Users of Social Prescribing followed by a panel discussion. Please click here to register for the event.
Anne Sheridan
Programme Manager for Mental Health and Wellbeing, HSE Health & Wellbeing.
COMHAIRLE CONTAE CHIARRAÍ/KERRY COUNTY COUNCIL
An Clár Feabhsúcháin Pobail 2021/Community Enhancement Programme 2021
The Community Enhancement Programme (CEP) is funded by the Department of Rural and Community Development.
Kerry County Council and Kerry Local Community Development Committee (LCDC) invite applications for funding under the Department of Rural & Community Development's Community Enhancement Programme 2021.
The Community Enhancement Programme (CEP) was launched by the Minister for Rural and Community Development, Heather Humphreys TD, and Minister of State with responsibility for Community Development and Charities, Joe O'Brien TD. Funding of €4.5 million has been ring fenced to support community groups impacted by COVID-19.  The allocation for Kerry is €142,409.
Who is eligible to apply?
Any not-for-profit community or voluntary group can apply. Commercial organisations and individuals are not eligible for funding.
What projects are eligible for funding?
The following provides a non-exhaustive list of projects that could receive funding under the programme:
? Adaptation to community centres and amenities for COVID-19 related measures ? Once off maintenance of premises ? Purchase of equipment for youth clubs and/or adaptations to facilities for COVID-19 related measures ? Improvements works to create safe sport/recreation facilities ? Improvements to town parks and common areas and spaces and the provision of comfortable and safe meeting places for young and older people ? Public realm improvements and accessibility projects, in line with Kerry's Age Friendly Strategy ? Streetscaping ? Minor enhancements of play/recreation spaces ? Energy efficiency type projects ? Purchase of equipment ? Adaptations or equipment needed as a result of COVID-19 ? Purchase of IT Equipment for Community usage and to facilitate training for older people
Separately, for this iteration of the CEP, grants are available for costs associated with reopening of a facility or the sustainability of the facility. These include costs such as utility bills, etc. To ensure appropriate monitoring and governance, the Department is stating that only costs falling due for payment in 2021 are eligible.
Project proposals that have not previously received public funding during COVID in the past 12-18 months will also be prioritised by the LCDC where possible, subject to the overall quality of the project.    
Please keep in mind that the delivery of your project must be within the confines of any COVID-19 restrictions that may be in force and that all HSE guidelines and protocols are adhered to.
Offers of funding may be for a lesser amount than that sought by the applicant.  Applicants should be aware that the Programme may be oversubscribed.  Therefore, in such circumstances, all applications fulfilling the conditions may not be successful or may be for a lesser amount.
Target groups
This funding is targeted towards enhancing community facilities for individuals and communities that are impacted by disadvantage as identified in the Local Economic & Community Plan (LECP).
How to Apply
Applications should be made online using the following link:- https://arcg.is/1byG1u
Please ensure that all documentation required to complete the application is included, otherwise this may render your application invalid.
The closing date for receipt of applications is 5 p.m. on Friday 16th July, 2021
Queries should be referred by email to community@kerrycoco.ie or by contacting the Community & Tourism Department on (066) 7183680.
Minister O'Gorman announces 2021 LGBTI+ Community Services Funding Call
Wednesday 7th of July 2021,
€700,000 will be made available to support community services for LGBTI+ people.
Funding aims to promote inclusion, protect rights and to improve quality of life and wellbeing for LGBTI+ people in Ireland.
Grant scheme is open to applications from existing LGBTI+ non-government organisations and community organisations working with LGBTI+ people.
The Minister for Children, Disability, Equality and Integration, Roderic O'Gorman T.D., today announced that applications can now be made for funding from the LGBTI+ Community Services fund.
€700,000 is being made available to applicant groups, operating at national, regional and local level, to support community services and promote visibility and inclusion of LGBTI+ people.
The 2021 LGBTI+ Community Services Funding Call is an important element in supporting the implementation of the National LGBTI+ Inclusion Strategy, which was published on 28 November 2019, and complements the National LGBTI+ Youth Strategy published in June 2018.
Announcing the funding, Minister O'Gorman said "My Department aims to build a safer, fairer, more inclusive Ireland. The National LGBTI+ inclusion strategy is a major step forward for the LGBTI+ community – young and old, urban and rural. The continuation of this funding programme is a clear sign of my Department's commitment to further improve access to services for LGBTI+ people, irrespective of their age or where they live."
Key actions for the Department include maintaining the funding and capacity of LGBTI+ community services, as well as measures to ensure that community development infrastructure more broadly is both inclusive and welcoming to LGBTI+ people.
Minister O'Gorman added "Continuing to support the LGBTI+ community is a priority for my Department. The funding announced today follows last year's successful funding call and will help improve quality of life for LGBTI+ people and ensure they are supported in realising their rights."
Additional funding of €700,000 was secured in the Equality budgetary allocation for 2021 to support equality and LGBTI+ initiatives, bringing the total funding available to over €920,000 in 2021.
There are two streams of funding, and applications must be submitted electronically. Applications for funding will remain open until 3pm on Monday 26 July 2021. Groups can access a detailed guidance document and complete an online application form at the following links:
Scheme A –
https://ec.europa.eu/eusurvey/runner/LGBTI_2021_Scheme_A
Scheme B –
https://ec.europa.eu/eusurvey/runner/LGBTI_2021_Scheme_B
Applications for Funding will be assessed according to the following criteria:
Strategic fit and achieving the goals of the Scheme, including how the proposed project would benefit LGBTI+ people in rural areas
Strength of proposal, including how the planned activities will improve services and meet the current unmet needs of the LGBTI+ community.
Financial management and value for money
Issued by the Press and Communications Office at the Department of Children, Equality, Disability, Integration and Youth.
Tel: 01 647 – 3153/3032
Email: media@equality.gov.ie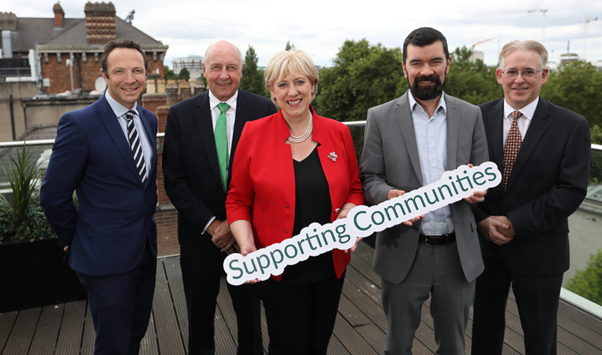 Our Rural Future: Minister Humphreys doubles investment for upgrade works on rural roads and laneways
Additional funding of €10.5 million brings total budget to €21 million
Improving access to homes, farms and outdoor amenities         
Minister Humphreys: increased funding is a key deliverable in 'Our Rural Future'
The Minister for Rural and Community Development, Heather Humphreys TD, has today (Wednesday, 14 July) announced an increased investment to €21 million for upgrade works on non-public roads in rural communities.
The announcement doubles the original €10.5m budget which had been allocated for investment under the 2021 Local Improvement Scheme (LIS). This will improve access to rural homes and farms, as well as outdoor amenities such as lakes, rivers, mountains and beaches.
The focus of the scheme is to support the continued improvement of rural roads and laneways that are not normally maintained by local authorities but which represent a vital piece of infrastructure for rural residents.
The Scheme was relaunched in 2017 and over 10,000 landowners and residents in rural Ireland have benefitted to date.
Announcing the additional funding, Minister Humphreys said:
"There is strong demand for the Local Improvement Scheme right across the country. Funding for the scheme was discontinued for a number of years and I know that this has led to a backlog in roads that require improvement works.
"That is why I am delighted to be in a position to double the level of funding available for the Local Improvement Scheme this year to €21 million. The roads that will be maintained through this investment are vital for access to homes and farms in rural Ireland."
Minister Humphreys added:
"My Department is engaging with each of the Local Authorities to establish the level of demand that can be met in each County before year end. Once that process is complete, I will announce the specific allocations to be provided to each County from this increased funding.
"As part of "Our Rural Future" the Government has committed to increasing our investment in the repair of non-public roads through the Local Improvement Scheme.   With this funding announcement, we will have invested €80 million in upgrading works on these roads since 2017."
The additional funding will be delivered in the same manner as previously. Local Authorities are responsible for identifying and prioritising roads for improvement works under the scheme, in consultation with residents/landowners. The works must be completed before the end of the year.
The funding provided by the Department of Rural and Community Development will be complemented by a local financial contribution from landowners/householders, as well as Local Authority resources.
There will be a cap of €1,200 on the amount that any individual householder or landowner will be asked to contribute towards the cost of repairs to their road.
Hi everyone!
This months Meet Up features a Press Release workshop, and will help groups write press releases to reach the media with your news and campaigns.

What: Monthly Meet Up: Press Release Training
When: Monday July 26th, 7pm – 8.15pm
Register here: https://us02web.zoom.us/meeting/register/tZAlcuygrj4pEtUIeUfsqIE_vRO52ahPBJJw
July's Meet Up guest speaker is Kayle Crosson, Communications Officer at the Irish Environmental Network. She will be giving a workshop on how to write and send a press release, including tips for getting better pick up rate from media channels. This workshop will help your group can get maximum reach in the media.
We will have a presentation and Q&A, and time for discussing our own experiences in promoting events and campaigns.
Please share this workshop with any groups or individuals who may be interested in attending.
Hope to see you there,
Catherine.