Tralee Bay Wetlands – Call for artist!
Tralee Bay Wetlands, with support from Creative Ireland, Kerry County Arts and the Local Authority Waters Programme, have an exciting opportunity for artists to create little homes, each depicting different aspects of the wetlands, as part of their Nature Trail.
Further details at this link: https://www.kerrycoco.ie/arts/arts-forms/
Closing date for applications is 12th July @ 4pm.
COMHAIRLE CONTAE CHIARRAÍ/KERRY COUNTY COUNCIL
An Clár Feabhsúcháin Pobail 2021/
Community Enhancement Programme 2021
The Community Enhancement Programme (CEP) is funded by the Department of Rural and Community Development.
Kerry County Council and Kerry Local Community Development Committee (LCDC) invite applications for funding under the Department of Rural & Community Development's Community Enhancement Programme 2021.
The Community Enhancement Programme (CEP) was launched by the Minister for Rural and Community Development, Heather Humphreys TD, and Minister of State with responsibility for Community Development and Charities, Joe O'Brien TD. Funding of €4.5 million has been ring fenced to support community groups impacted by COVID-19.  The allocation for Kerry is €142,409.
Who is eligible to apply?
Any not-for-profit community or voluntary group can apply. Commercial organisations and individuals are not eligible for funding.
What projects are eligible for funding?
The following provides a non-exhaustive list of projects that could receive funding under the programme:
? Adaptation to community centres and amenities for COVID-19 related measures ? Once off maintenance of premises ? Purchase of equipment for youth clubs and/or adaptations to facilities for COVID-19 related measures ? Improvements works to create safe sport/recreation facilities ? Improvements to town parks and common areas and spaces and the provision of comfortable and safe meeting places for young and older people ? Public realm improvements and accessibility projects, in line with Kerry's Age Friendly Strategy ? Streetscaping ? Minor enhancements of play/recreation spaces ? Energy efficiency type projects ? Purchase of equipment ? Adaptations or equipment needed as a result of COVID-19 ? Purchase of IT Equipment for Community usage and to facilitate training for older people
Separately, for this iteration of the CEP, grants are available for costs associated with reopening of a facility or the sustainability of the facility. These include costs such as utility bills, etc. To ensure appropriate monitoring and governance, the Department is stating that only costs falling due for payment in 2021 are eligible.
Project proposals that have not previously received public funding during COVID in the past 12-18 months will also be prioritised by the LCDC where possible, subject to the overall quality of the project.
Please keep in mind that the delivery of your project must be within the confines of any COVID-19 restrictions that may be in force and that all HSE guidelines and protocols are adhered to.
Offers of funding may be for a lesser amount than that sought by the applicant.  Applicants should be aware that the Programme may be oversubscribed.  Therefore, in such circumstances, all applications fulfilling the conditions may not be successful or may be for a lesser amount.
Target groups
This funding is targeted towards enhancing community facilities for individuals and communities that are impacted by disadvantage as identified in the Local Economic & Community Plan (LECP).
How to Apply
Applications should be made online using the following link: – https://arcg.is/1byG1u  
Please ensure that all documentation required to complete the application is included, otherwise this may render your application invalid.
Queries should be referred by email to community@kerrycoco.ie or by contacting the Community & Tourism Department on (066) 7183680.
All Information is available to download from Kerry County Council's website, www.kerrycoco.ie .
THE CLOSING DATE FOR RECEIPT OF ONLINE APPLICATIONS IS 5PM ON FRIDAY, 16th JULY 2021
Deaf views needed about Domestic Sexual and Gender based violence
Consultation on new national strategy on Domestic, Sexual and Gender Based Violence
Thursday 8 July 2021, 10.30-12.30 
ISL Interpreters provided if registered in advance
Please share with Deaf colleagues 
Disabled Women Ireland, the National Platform of Self Advocates, Inclusion Ireland and the Disability Participation and Consultation Network are organising an online consultation for this new strategy.
The Department of Justice is developing this strategy with Safe Ireland and National Women's Council of Ireland.
It is important deaf and disabled people's voices are included in this new plan.
Book your place by emailing disabilityparticipation@gmail.com or text 083-8236126.
Please book by Monday 5th July and let us know your access needs.
A zoom link will be sent the day before if you have registered.
The issue of domestic and sexual violence can be very difficult to discuss.
If any participant finds discussion upsetting, we will arrange for support so you can talk to someone about it, if it's needed.
Kind regards.
Nóirín, On behalf of the DPCN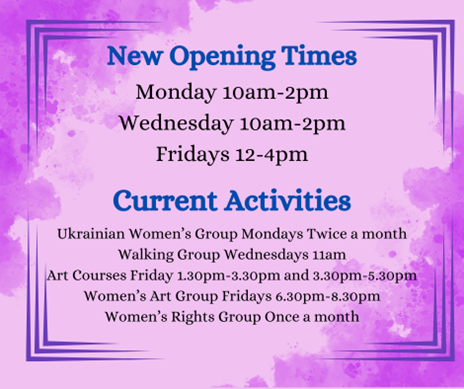 As part of Kerry Volunteer Centre's ongoing work to support local community and voluntary groups in Kerry to re-open safely in 2021 we have scheduled a free 'Ready and Able to Re-open in 2021' webinar for 11am on Wednesday 14th July. The training seminar will be delivered by Liam Scollan, as you may remember he delivered our very successful series in 2020.
The free webinar will explore how community and voluntary groups can best develop a positive and safe environment after re-opening fully. The webinar will deal with new policies such as:
•       homeworking
•       right to disconnect
•       cyber security
•       decisions in the workplace around vaccination.
This new material will, as before, be accompanied by practical manuals to enable participants to work immediately with the new changes. Participants will have access to a new 2021, Covid-19 Response Plan, manual and additional templates for the new procedures referred to above.
You can book your place now via: https://readyandabletoreopenin2021.eventbrite.ie
Threshold Housing – event invitation
Saving Homes during Covid – Threshold's impact
Save the date: July 21st
In an ideal world, a home is a place of sanctuary, offering protection from the stresses and strains of daily living.
And this is what we all deserve.
But the reality, for many of Threshold's clients, has been anything but ideal and in some cases, people have come home to find the locks changed, their belongings still inside and with nowhere to go.
When families and individuals received notices of termination, prior to the COVID-19 pandemic, they did not know if and when they had to move out. But Threshold's team of housing advisors remained constant, guiding private renters amid the confusion, as events unfolded and legislation changed.
Join us on Wednesday, July 21st at 11am in a unique celebration of Threshold's impact during a historic and tumultuous year.
Hear the stories of Tessa, Sheila and Rachel, three of Threshold's frontline workers, as they share their experiences of saving families and individuals from homelessness during Covid.
To secure your place at this unique event, register here
For further information about this event, please contact cathy.flanagan@threshold.ie
Our Rural Future: Minister Humphreys Marks Broadband Connection Point Milestone
Drumhowan Community Centre in Monaghan is 200th BCP to go live
Minister for Rural and Community Development, Heather Humphreys TD, today (June 25, 2021) launched Ireland's 200th Broadband Connection Point (BCP).
The roll-out of BCPs to rural towns and villages is a key commitment under Our Rural Future, the Government's five-year strategy for Rural Ireland.
BCPs are publicly accessible sites in areas that do not have adequate broadband services. They are located in the likes of community centres, schools, libraries, parish halls, and sports clubs.
BCPs provide onsite use of high-speed broadband by the public and support a range of digitally enabled services, such as remote work and study. Their roll-out is part of the Connected Communities initiative – a collaboration between the Government, National Broadband Ireland (NBI) and Vodafone Ireland.
There are now more than 200 BCPs live and operational – details can be found at: https://myconnectedcommunity.ie/
When complete, the national network will include c.300 BCPs. It is expected that the network will complete later this year.
The BCP / Connected Communities initiative is a collaborative effort involving the Department of Rural and Community Development, the Department of Environment, Climate and Communications, NBI, Vodafone Ireland, c.300 community groups, libraries, sports clubs and small businesses, and 28 of the 31 Local Authorities (there are no BCPs in Cork City, Dublin City or Galway City Local Authority areas).
The typical BCP will receive a 150/30mbps service from NBI. This will be achieved via a temporary wireless broadband connection that will stay in place until the premises is passed by fibre services.
Vodafone Ireland supplies and supports the superfast WiFi at each site. The equipment used is enterprise grade standard and includes indoors and outdoors WiFi access points.
The Department of Rural and Community Development will support all BCPs for a minimum of 3 years.
A range of thematic pilot activities will launch over the coming months. These will test the use of BCPs under the following headings:
eHealth
Arts & Culture
Remote Working
Training and Education
Learnings from these pilots will inform future funding, development activities and supports.