Kerry PPN Newsletter Friday 20th October 2023
To all Kerry PPN members, please find contents of the Kerry PPN Community Newsletter below and please share it to all members of your group and beyond.
Have a lovely weekend.
Kind regards,
Breeda and Andrea.
Kerry Public Participation Network Development Officer & Kerry Public Participation Network Support Officer.
(Breeda) 066-7183579 (Andrea) 066-7183686
Contents of the newsletter is as follows:
Dates for your Diary – Making the most of Funding Opportunities
Date for your Diary – Brainstorm event for Climate Action Fund
Kerry County Council Climate Action Plan – Have your say
Kerry County Council, Road Closure Tawlaght Lane, Fenit.
Local Authority Waters Programme 2024
Community Work Ireland – Climate Justice
SDG National Stakeholder Forum
Barnardos – Boarded out practical support services for adults
Supporting Parents
National PPI Festival – Sing you Tinnitus Story
Gardening for Community, People & Planet
Daniel O'Connell School 2023
Writer's Week Winter Event
Saturday Storytime
Kingdom Picketball Club Dingle
First Aid Training – Killarney Fire Station
Safeguarding 2 in person workshop Killarney
Engagement on Kerry County Council's Local Authority Climate Action Plan 2024-2029 Have your say !!!

Kerry County Council is inviting members of the public to comment on the Council's Draft Local Authority Climate Action Plan and to join the discussion on how the local authority can support communities to mitigate and adapt to climate change.
The Council has published its draft Local Authority Climate Action Plan 2024-2029 outlining the main challenges facing the various sectors in the county in the years ahead, and how a collaborative approach to decarbonisation and climate change can be achieved.
Following on from early engagement with the public undertaken over the summer, members of the public are now invited to have their say on the Draft Plan.
Submissions or observations can be made from Thursday 19th of October until Friday 1st of December 2023 (both dates inclusive).
Copies of the Draft Local Authority Climate Action Plan 2024-2029, Strategic Environmental Assessment Environmental Report and Natura Impact Report may be inspected at the following locations:
Online through https://consult.kerrycoco.ie/
-Public Libraries in Tralee, Killarney, Listowel, Kenmare, Castleisland, Dingle /Leabharlann Dhaingean Uí Chúis, Ballybunion, Killorglin, and Caherciveen, and –
Room 13, Planning Department, County Buildings, Rathass, Tralee.
Public Consultation Drop-in Event
Members of the public and interested groups are invited to meet the Climate Action Team to discuss the plan at the following locations:
Location
Time and Date 
– Dingle/ Daingean uí Chúis Library
Thursday November 2nd, 6.30pm-7.30pm
– Tralee Library
Tuesday November 14th , 6.30pm-8pm
– Caherciveen Library
Thursday November 16th, 6.30pm-8pm
– Killarney Library
Tuesday November 21st, 6.30pm-8pm
– Listowel Library
Thursday November 23rd, 6.30pm-8pm
Submissions may be made as follows:
Online via https://consult.kerrycoco.ie/
 Or
In writing to the Climate Action Unit, Kerry County Council, Woodland Industrial Estate, Killarney, Co. Kerry, V93XF98 and marked 'Kerry County Council Draft Local Authority Climate Action Plan 2024-2029'.
Submissions or observations can be made within the period specified in this notice from Thursday 19th of October until Friday 1st of December 2023(both dates inclusive).
Cathy Fisher
Climate Action Officer,
Kerry County Council, Woodland Industrial Estate, Killarney, Co. Kerry, V93XF98
E: cathy.fisher@kerrycoco.ie   M: 087 1444593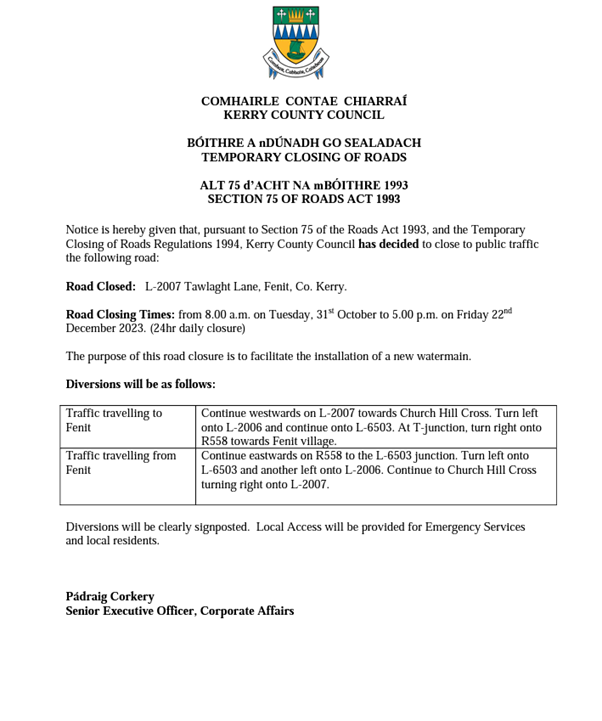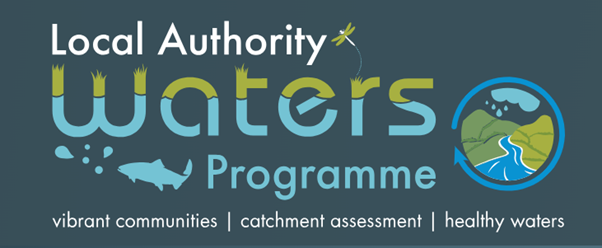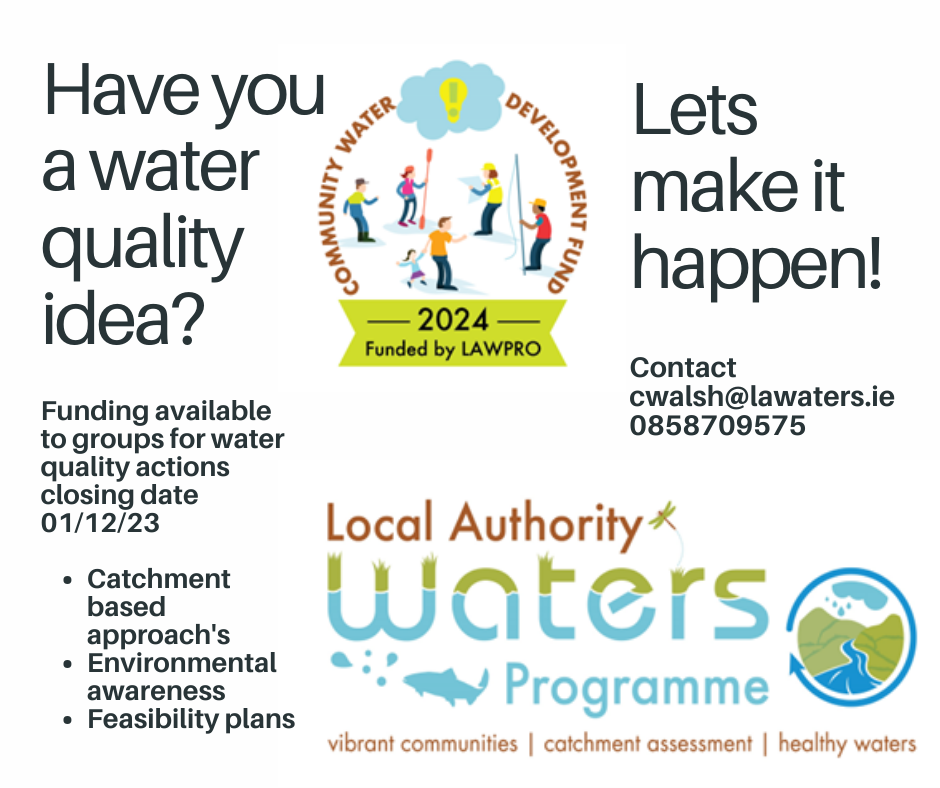 The LAWPRO Community Water Development Fund 2024 is now open for applications. Your local community or voluntary group can now apply for a Community Water Development Fund (CWDF) grant to deliver a project in 2024. This Fund helps local communities deliver projects and initiatives that enhance your local water environment, delivering multiple benefits for water quality, biodiversity and climate action.
The Local Authority Waters Programme (LAWPRO) administers the Fund on behalf of the Department of Housing, Local Government and Heritage. There will be €520,000 available in grants under the 2024 Call.
Interested community and voluntary groups can download the Guidelines and complete the grant application form online at lawaters.ie. An information video is available which explains all about the Fund and use of the online portal – see here Local Authority Waters Programme (vimeo.com)
The Fund is open to all community and voluntary groups to help in the protection and management of water quality, both locally and in the wider catchment. Grants awarded will range from €1,000 to €25,000. For support with your application contact your local Community Water Officer Communities Team – Local Authority Water Programme (lawaters.ie) The closing date for receipt of applications is 12 noon on Wednesday 6th Dec 2023."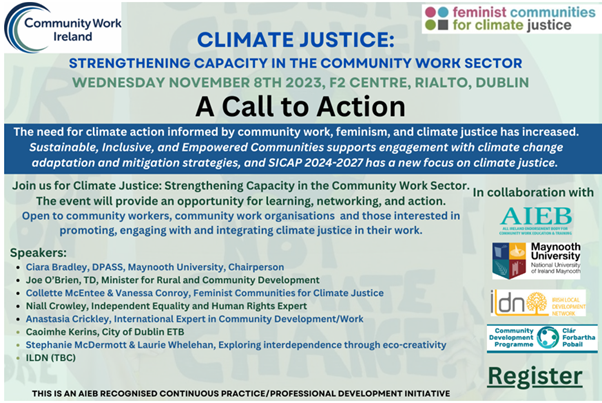 SDG National Stakeholder Forum
Biodiversity and Community –
Building Resilience while Leaving No One Behind
 Registration for attendance at the November 17thSDG National Stakeholder Forum will open at 09:00 am on October 23rd. Additional in-person attendance places will be made available at
7:00pm on Wednesday 25th.
 Virtual registration opens at 09:00 on October 23rd and closes at 18:00 on November 13th
Venue:  Aviva Stadium, Dublin
Please register here.
#SDGsIRL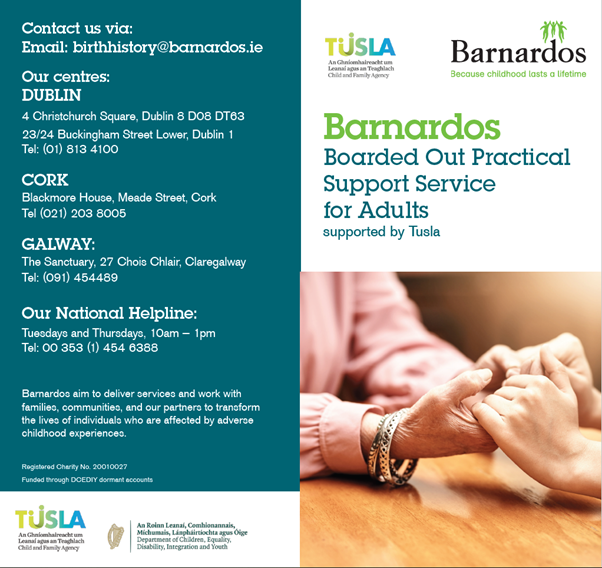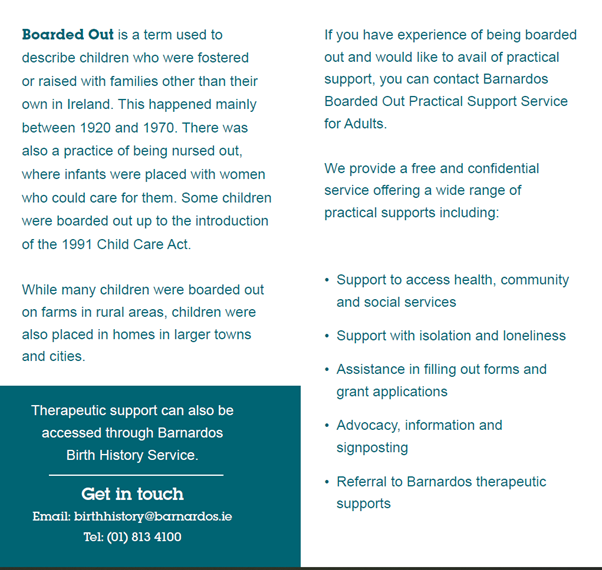 This is a new service which Barnardos are providing, the Barnardos Boarded Out Practical Support Service for Adults.
The aim of this service is to provide practical supports to adults who have been boarded out, nursed out or fostered prior to the Child Care Act 1991.
The service will offer a wide range of practical supports including:
-Support to access to health, community and social services
-Support with isolation and loneliness
-Assistance in filling out forms and grant applications
-Advocacy, information and signposting
-Referral to Barnardos therapeutic supports
This is a free and confidential service where we can visit service users in their homes and communities or offer support over the phone.
This national service is available to any adult who has been boarded out as a child prior to the Child Care Act 1991.
If you would like more information you can contact the Barnardos Boarded Out Practical Support Service for Adults Project Coordinator Natalie Johnson by phone 086 1681511 or email at natalie.johnson@barnardos.ie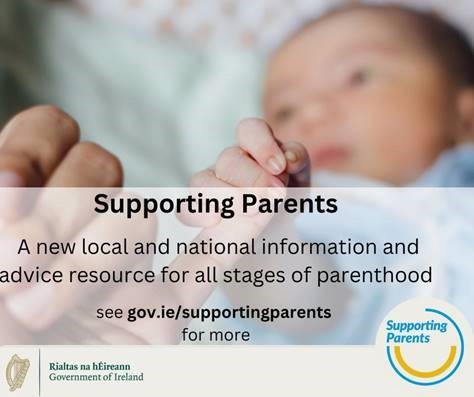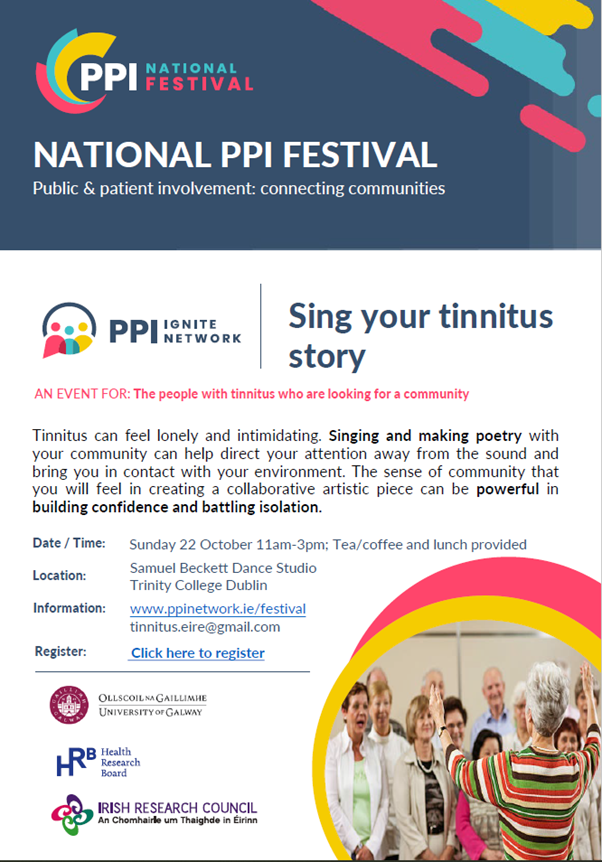 Tinnitus is the continuous ringing in the ear. About 10-15% of Irish people experience this. Unfortunately, there is not a solid community for tinnitus in Ireland. As part of the National PPI Ignite Festival, Tinnitus Éire, an upcoming community for tinnitus in Ireland together with Trinity College Dublin and Sing Ireland at University of Limerick are organising the "Sing Your Tinnitus Story – a co-creative poetry and chorus workshop".
Date: Sunday, October 22
Time: 11:00 – 15:00 (Tea/coffee and lunch provided)
Venue: Samuel Beckett Dance Studio – Trinity College Dublin
If you have tinnitus, or you know someone with tinnitus, please come join us to find your community through song and music!
Please also avail of the discount code – SING50 when you sign up using the following link, Sing your tinnitus story (part of PPI Ignite Festival) Tickets, Sun 22 Oct 2023 at 11:00 | Eventbrite
If you have more questions, please email tinnitus.eire@gmail.com.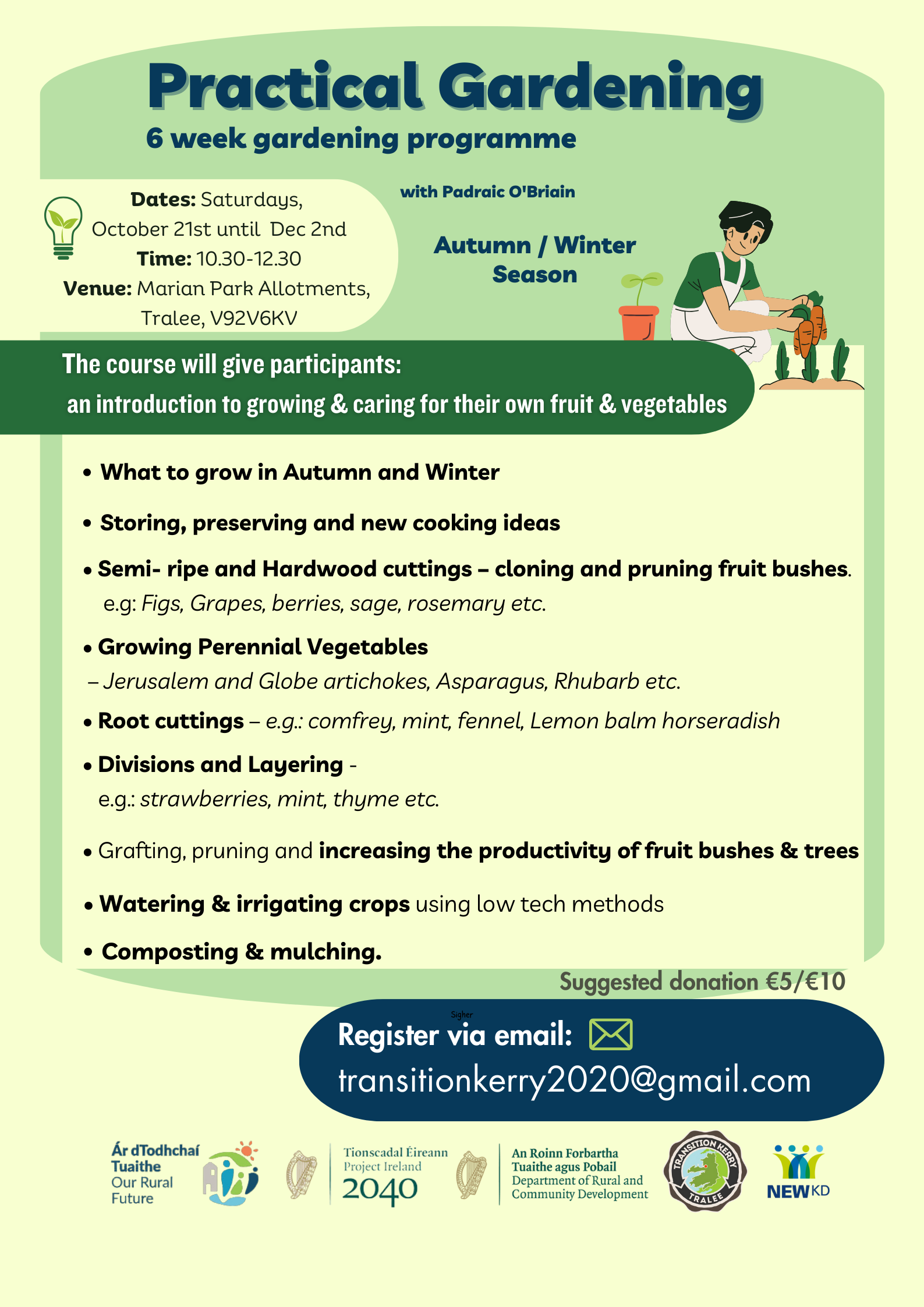 Transition Kerry are delighted to inform you that Tralee Allotments will be running two programmes starting this Wednesday, October 18th  in Rahoonane Community Center and in Marian Park allotments Tralee starting on Saturday, October 21st for 6 weeks.
These programmes are funded under the County Kerry Recognition fund and are open to all. Please circulate to your contacts and see details to register
This week is National Allotments and Community Gardens week https://cgireland.org/national-allotments-and-community-gardens-week-14th-to-21st-october-2023/
"as a wealth of academic literature shows community gardens are not only important for the biodiversity they promote and for the food that they cultivate, but that access to such urban oases is hugely important to people for reasons to do with social inclusion, environmental awareness and mental health," according to Rachel Freeman, lecturer in Horticulture at TU Dublin.
There will also be workshops in Moyderwell Community allotments. More details soon.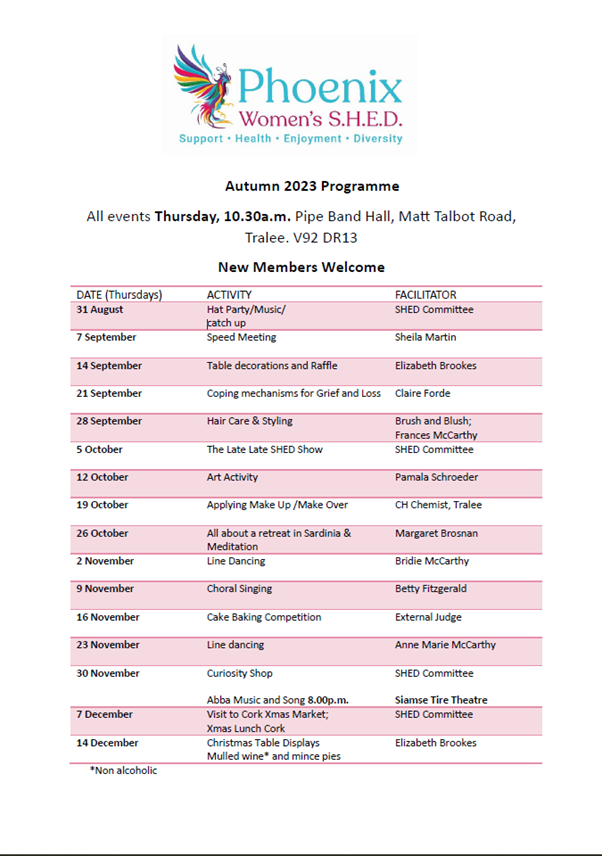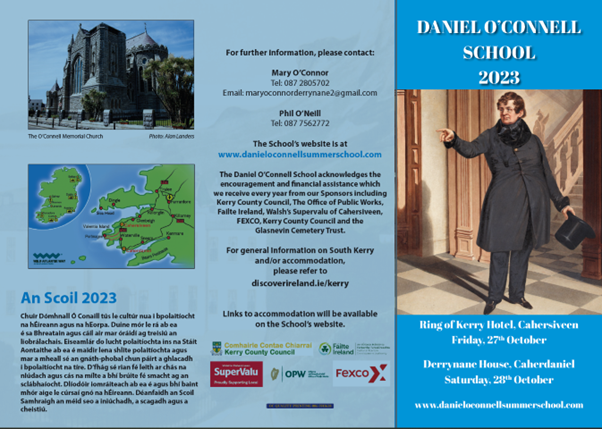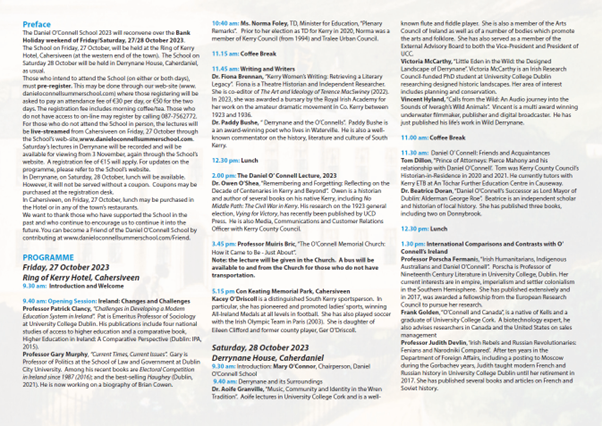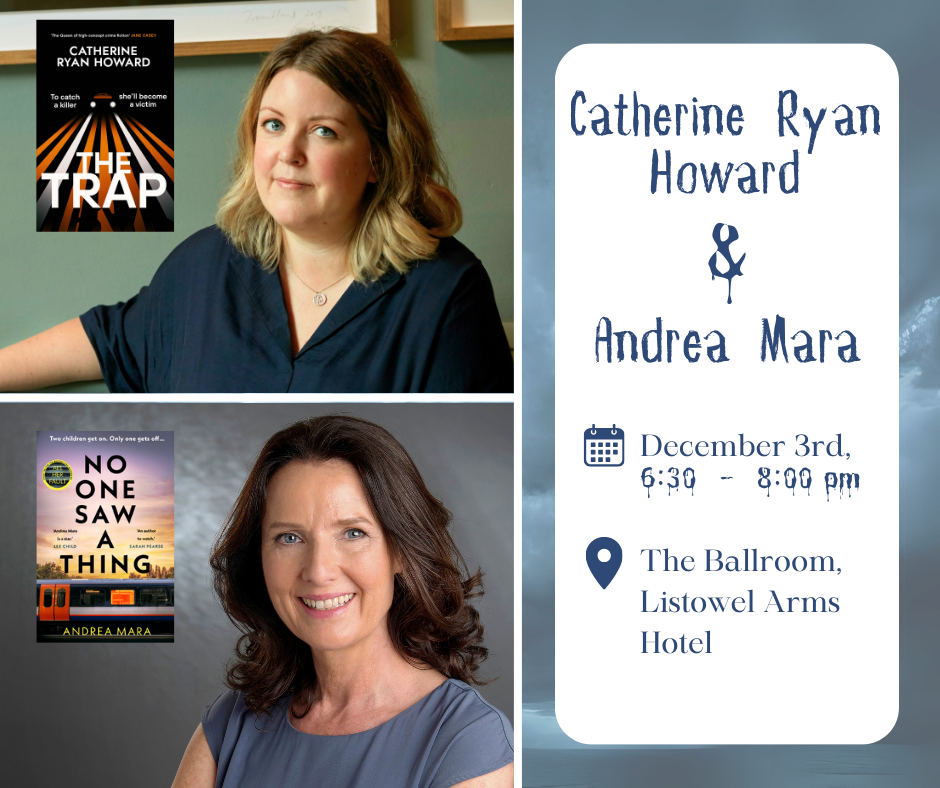 Winter event on the 3rd of December at 6:30 pm, with authors Catherine Ryan Howard and Andrea Mara. Below is some info on the event.
Listowel will be welcoming Catherine Ryan Howard and Andrea Mara, best-selling authors, in this thrilling discussion about what inspires them to write their enthralling novels.They will discuss their latest literary works, which include Catherine Ryan Howard's, The Trap, and Andrea Mara's, No One Saw A Thing, and give us a glimpse into their writing process.Catherine has accomplished a great deal in her writing career, with two Irish No.1 bestsellers. Her work has been translated into 19 languages, and several of her novels have been considered for film adaptations. She has been shortlisted for the Irish Book Awards Crime Fiction Book of the Year and the CWA John Creasey/New Blood Dagger to name a few.Andrea Mara is a top ten bestselling author for the Irish Times and has been nominated for several awards, including the Irish Crime Novel of the Year at the An Post Book Awards. Furthermore, Mara is a Kindle and top ten bestselling author for both the Sunday Times and Irish Times.The event will be held on December 3rd, from 6:30 pm – 8:00 pm in The Ballroom, Listowel Arms Hotel.
All ticket holders are eligible for an exclusive deal: enjoy a two-course pre-show dinner, complete with tea and coffee, for just €30 at 5 pm. To avail of this offer, please contact the Listowel Arms Hotel at (068) 21500 or you can purchase tickets on the following link https://writersweek.ticketsolve.com/shows/873639966/events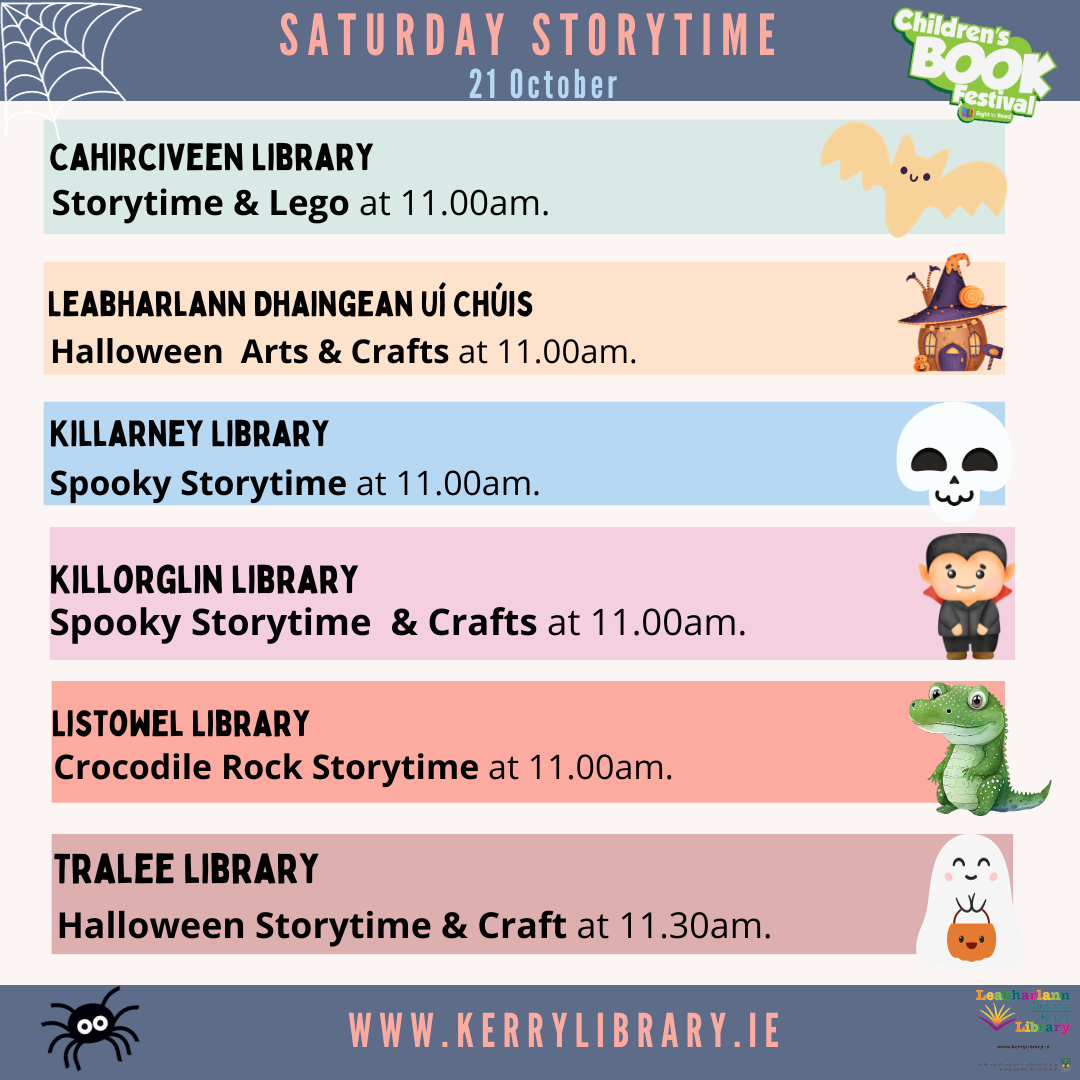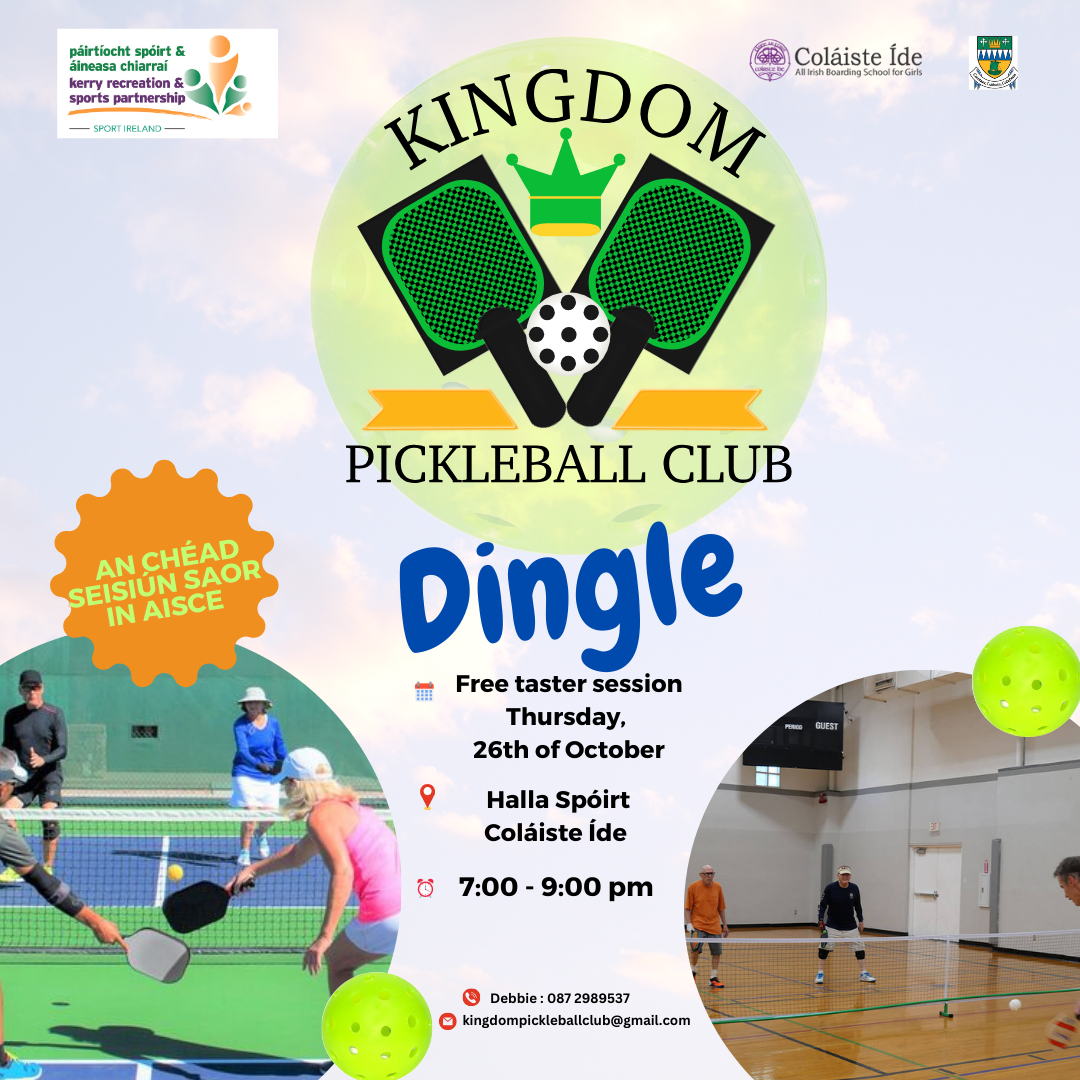 Free Come and Try It Pickleball in Dingle
Location: Halla Spóirt Coláiste Íde Dingle
Date:  Thursday 26th of October
Times: 7:00-9:00pm
Cost: Free taster session (after which there will be a weekly charge)
All equipment will be provided
No need to book, just pop along and try it out.
Over 18's only.
First Aid Training Course
Location: Fire Station Killarney
Date:  Saturday 11th of  November
Times: 10:00-4:00pm
Cost: €50 plus booking fee
Over 18's only
Safeguarding 2 Workshop
A Safeguarding 2 workshop will be held in Faha National School, Killarney on Sunday 12th November 2023 from 9am – 12pm.
Safeguarding 2 is for any person appointed to the role of Club Children's Officer (CCO) within a club. The aim of this workshop is to help the Club Children's Officer to carry out their role and support the implementation of best practice in the club. Participants will also receive a Club Children's Officer Action Planning document as part of the training.
Register to book at the following link;