Kerry PPN Newsletter – Friday 15th September 2023
To all Kerry PPN members, please find contents of the Kerry PPN Community Newsletter below and please share it to all members of your group and beyond
Kind regards,
Breeda and Andrea.
Kerry Public Participation Network Development Officer & Kerry Public Participation Network Support Officer.
ppn@kerrycoco.ie
(Breeda) 066-7183579 (Andrea) 066-7183686
Contents of the newsletter this week are as follows:
ATTENTION: Kerry PPN Sustainable Development Goals Workshop
Reminder: All Kerry PPN members to update information
PPN Annual Report Survey
Reminder: Housing Strategic Policy Committee
Kerry County Council Job Opportunity's
Guided Biodiversity Walk-Kilcummin
National Allotments & Community Gardens Week
Kerry Energy Clinic hosted by Chadwick's
ALONE: Bud's Family Resource Centre

September 28th

Evening Event at Kerry County Museum this Autumn
Reminder : Kerry Mental Health & Wellbeing Fest closing date
World Mental Health Month
Kerry Recreation & Sports Partnership – Safeguarding 1 Workshop
Kingdom Picketball Listowel
Architecture Kerry 2023
Minister for Health announces 215,000 people are newly eligible for free GP care
Our Rural Future: Ministers Humphreys and Joe O'Brien look forward to promoting outdoor recreation and community engagement at the 2023 National Ploughing Championships
Season of Creation
UPCOMING: Sustainable Development Goals Workshop
Kerry PPN in relation to SDG week are delighted to announce an exciting online workshop/event brought to you by Sara Hurley.
Sara Hurley is Saolta's Programme Officer and was a 2020 Saolta UN Sustainable Development Goals Advocate, with special interest in Goal 5 Gender Equality, Goal 10 Reduce Inequality and Goal 13 Climate Action. Her workshops combine elements of information sharing, peer to peer learning and hopefully some fun too! A self-described Radical Optimist, she encourages participants to use optimism, hope and honesty to help envision (and to build) better futures and sustainable communities.
Saolta is a Global Citizenship Education partnership programme for the Adult and Community Education sector in Ireland between Irish Aid and a consortium of organisations (Development Perspectives, AONTAS, Concern Worldwide, Irish Rural Link and the Adult and Community Education Dept of Maynooth University), with the strategic goal to increase accessibility, quality and effectiveness of global citizenship education within the adult and community education sector.
We would love for you to join us online and you can do so by registering your place on the Event Brite link below and please find the Zoom link to attend the event.
We are really looking forward to welcoming you all.
https://www.eventbrite.com/e/kerry-ppn-sustainable-development-goals-workshop-tickets-718390363917?aff=oddtdtcreator 
Join Zoom Meeting
https://us06web.zoom.us/j/87052273730?pwd=RxfQoi27Huzf3Ka3befTkoaAJIFVkO.1
Meeting ID: 870 5227 3730
Passcode: 365894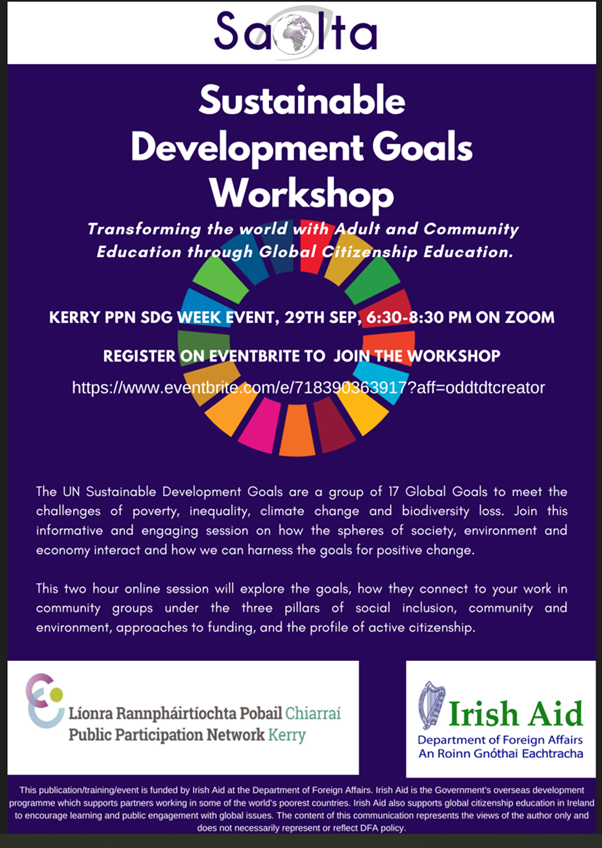 Reminder to all Kerry PPN members !!!
A quick little reminder to all PPN group members to email ppn@kerrycoco.ie if you need to update any information since you last registered your group. It is vital that we have the correct contact information so that we can circulate all important information out to you.
Hello,
I just wanted to say a thank you to all for completing the PPN Annual Report survey.
A common thread was training and access to information.
I am attaching the link to the online stakeholder training sessions that Social Justice Ireland provides. This is open to all staff of the PPNs and Local Authorities, Representatives, Secretariat, Councillors and Member Groups. These pre recorded sessions and short quizzes can be worked through at an individual pace.
https://www.socialjustice.ie/register/register-training
My best wishes,
Susanne Rogers,
Research & Policy Analyst.
Social Justice Ireland,
1-3 Burton Hall Road, Sandyford, Dublin 18, Ireland, D18 A094
Tel: + 353 (0) 1 290 3597 (Main Line)
Web: www.socialjustice.ie

REMINDER: There will be a meeting with the Housing SPC on Thursday 21st September. The PPN has a representative sitting on this SPC and if there is anything members of the PPN would like raised at the meeting please forward it to ppn@kerrycoco.ie and put Housing SPC in the subject line.

Applications are invited for employment as:
 IS PROJECT LEADER
CEANNAIRE TIONSCADAIL CÓRAIS FAISNÉISE
€55,022 – €71,529 per annum
VALUATION SURVEYOR
SUIRBHÉIR LUACHÁLA
€54,699 – €76,035 per annum
LIBRARIAN
LEABHARLANNAÍ
€47,339 – €56,721 per annum
SENIOR LIBRARY ASSISTANT
CÚNTÓIR LEABHARLAINNE SINSEARACH
€31,551 – 50,345
LIBRARY ASSISTANT
CÚNTÓIR LEABHARLAINNE
€27,146 – €44,110 per annum
MOTOR MECHANIC
MEICNEOIR GLUAISTEÁIN
Weekly Wage €716.44 – €834.92
The Application Forms and Candidate Information Booklets may be obtained on the Kerry County Council web-site at
Jobs in Kerry County Council | kerrycoco.ie
Please refer to the Candidate Information Booklets for details in relation to the application process for these competitions.
The latest date for receipt of completed application forms is 5.00 p.m. on Thursday, 28 September 2023.
John O' Sullivan
Administrative Officer
Human Resources & Organisational Development
Kerry County Council
Tel. 066 7161807 / 087 2890844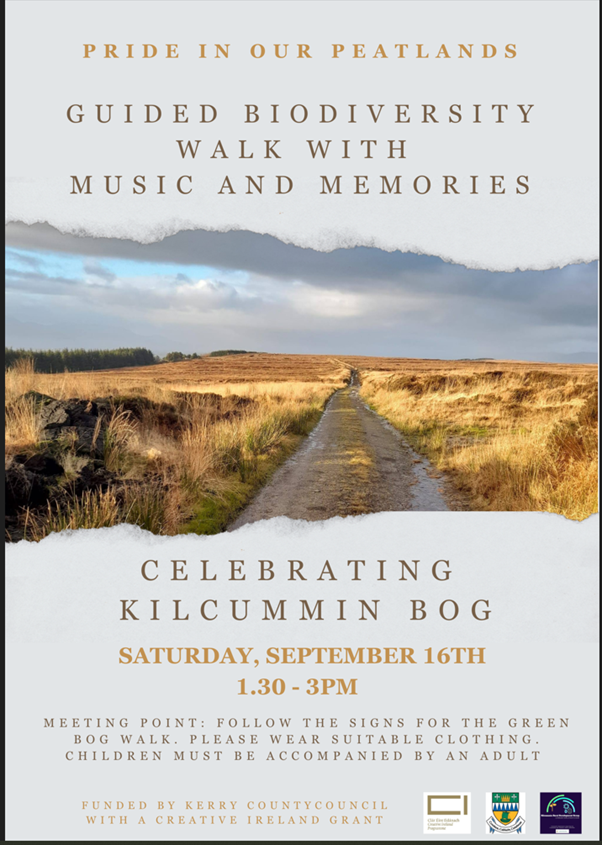 National Allotments and Community Gardens Week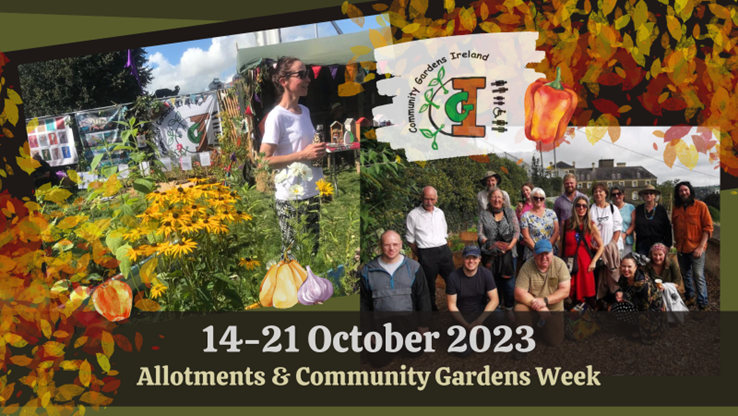 The first ever national Allotments and Community Gardens Week will be taking place in Ireland from 14th – 21st October 2023!
We are running this event to raise awareness of allotments and community gardens, to highlight how important they are and to detail the huge benefits of community gardening for communities, individuals, and the environment.
The 2023 theme is "Growing with Nature" and we are hoping to get as many allotments and community gardens involved.
Some examples of activities during the week are:
1) Organise a tour or an event (in person or virtual!) at your allotments or community gardens with an emphasis on how you are helping local wildlife and biodiversity!
2) Post photos and videos online during the week about what actions you are taking to grow with nature at your allotment or community garden!
3) Publicise the week as it is the first ever Irish event like this – we will be posting information on our social media in the coming weeks, so please share and like!
#NationalAllotmentsWeek #NationalCommunityGardensWeek
#GrowingWithNature
If you don't have social media, you can email us any photos or videos and we can post them online and tag your community garden or allotment.
If you are going to run an event during this week, please let us know by emailing communitygarden.ie@gmail.com and by tagging Community Gardens Ireland on social media during the event (14th – 21st October 2023).
To align with the start of Allotments and Community Gardens Week 2023, we will be organising our Yearly Gathering of Community Growers. 
This year it takes place in Cork City on Saturday 14th October where we will be visiting and seeing first hand some amazing community growing projects in the city. More details including Eventbrite link to follow on this!
Best regards,
Dónal McCormack
Chairperson Community
Gardens Ireland
0862371290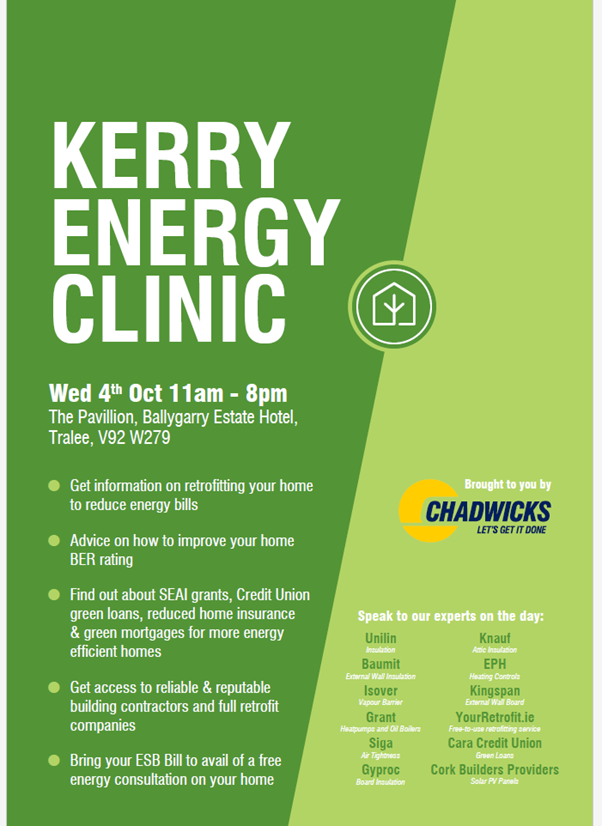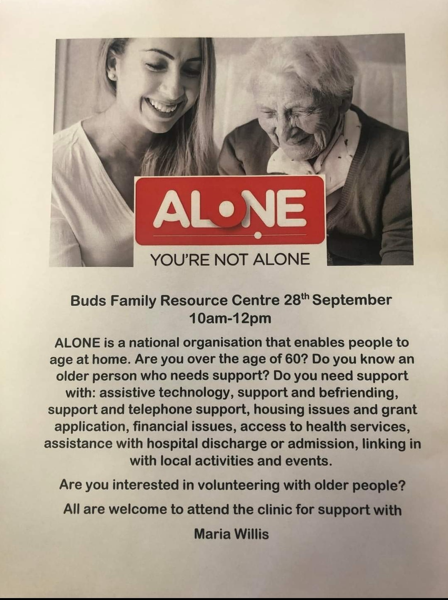 ALONE will be hosting monthly drop-in clinics
Date: Thursday 28th September 2023
Venue: Bud's FRC Ballyduff
Time: 10am – 12pm
ALONE Support Worker: Maria Willis
Bud's Project Support Worker Susan O'Sullivan will be available on Monday & Tuesday for drop-ins & Susan will be in constant contact with Maria
Just a reminder if you have an event(s) in draft form or are yet to add one, the closing date is

Thursday, 21st September
MHI is currently running online Connect Café information sessions throughout September. Registration is still open for the last few sessions.
Local communities are encouraged to take part and to register and promote their WMHM events on our dedicated website  https://worldmentalhealthmonth-mhi.ie/get-involved/register-your-event/
Every registered event will feature on the 'Find Out What's Happening in Your Area' page of the website. If you could also share this information on your social media and with your groups that would be great.
For more information please click on the following link www.worldmentalhealthmonth-mhi.ie
Architecture Kerry:

22nd September to 1st October 2023

Architecture Kerry celebrates Kerry's architectural heritage. This weekend festival features talks, guided tours and exhibitions to showcase the extraordinary built environment on offer in Kerry and is open to people of all ages. The vision behind Architecture Kerry is to show why good architecture, design and vibrant public spaces are vital to our quality of life. Experience exciting opportunities to visit some hidden gems throughout the County with tours led by architects and owners. Some buildings are open for one weekend only. There is a wide variety of buildings on offer from the science and technology sector, private architect-designed homes, passive buildings, Kerry lighthouses, historic houses, walking tours, castles, and much, much more!
Architecture Kerry is supported by Kerry County Council, the Department of Housing, Local Government and Heritage, the Heritage Council, the Trustees of Muckross House, the Irish Georgian Society, the Architectural Association of Ireland, the OPW, RIAI, and forms part of the Creative Ireland Kerry programme. It is facilitated by the owners and custodians of Kerry's built environment.
New for 2023, Architecture Kerry is partnering with the Architectural Association of Ireland to celebrate exciting new architectural projects in Kerry, is hosting an evening to explore the legacy of Kerry's Big Houses and is presenting the Kingdom of Skills traditional building skills in action with the Trustees of Muckross House and the Irish Georgian Society.
For more information see link below
 Minister for Health announces 215,000 people are newly eligible for free GP care from 11th September 2023 
Minister for Health, Stephen Donnelly announced on Monday the opening of applications for GP visit cards for up to 215,000 people who are newly eligible. This is the first of two phases which will provide free GP care to an estimated 430,000 people in Ireland on a means tested basis. It is part of the biggest expansion in eligibility for free GP care in the history of the state happening this year and covering up to 500,000 people. On 8 August 2023, free GP care was expanded to 78,000 children aged 6 and 7. From today, free GP care is expanded to 215,000 people aged between 8 and 69 on a means tested basis. From 13 November 2023, it will be expanded to 215,000 more people on a means tested basis.
People aged up to 69 and parents of children aged 8 and up can apply for a means tested GP visit card on the HSE website. The means test assessment considers a persons or family's circumstances, income and expenses. As well as assessing various kinds of income, a means test assessment considers personal situation, including dependent children and living situation, plus expenses such as rent or mortgage and childcare costs.This expansion will increase the qualifying financial threshold for a means tested GP visit card in two phases
The HSE have developed a simplified online application process for means tested GP visit cards which is now available on www.hse.ie/GPVisitCards.
Our Rural Future:Ministers Humphreys and Joe O'Brien look forward to promoting outdoor recreation and community engagement at the 2023 National Ploughing Championships
– 8-metre climbing tower for visitors to try out skills
– Department exhibit to showcase supports available to communities
– Hands-on computing and robotics demonstrations
– Mobile library and games to feature
The sustainable development of outdoor recreation in rural areas will be a key focus for the Department of Rural and Community Development at this year's National Ploughing Championships, due to begin in Ratheniska, Co. Laois on Tuesday 19th
The Department's exhibit, 'Our Rural Future – Supporting People and Communities' will be located in the heart of the Government of Ireland Village (Block 3, Row 22, Stand 348).
It will include an eight-metre climbing tower, supplied in partnership with Mountaineering Ireland and Awesome Walls, where visitors can try out their climbing skills and learn more about how to embrace Ireland's outdoors.
The Department's exhibit will include Water Safety Ireland demonstrations, advice and support from Rural Recreation Officers and an area focusing on responsible dog ownership.
The issue of dog attacks on livestock is of grave concern to the farming community.
Local authority vets and dog wardens will be at the exhibit discussing the importance of keeping dogs under control, the issues of livestock worrying, the requirement to have a dog licence and general animal welfare.
The exhibit will also include; information on rural and community funding, Public Participation Networks, Volunteer Ireland, coding and robotics demonstrations, a mobile library, and more.
For further information visit gov.ie/ploughing